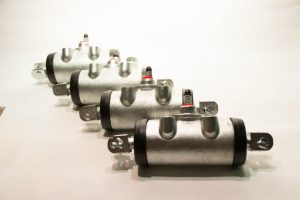 We can re-manufacture all types of brake and clutch master cylinders. These including single line, tandem, step-bore, tincan, displacement and centre valve masters as well as single ended, double ended, transverse and bi-sector wheel cylinders.
Our range of cylinders are sleeved in quality 304 and 316 grade long life stainless steel. Cylinders can either be assembled by you or pre-assembled at our workshop.
We have a large number of parts in stock on an exchange basis for a wide variety of vehicle makes and models. However if you have something rare that we do not carry exchange we can re-manufacture your own unit in approximately 4 hours.
As we aim to give our customers the best mix of quality and price, we also carry an extensive range of new parts for the occasions where they are cheaper than re-manufacturing. This also saves you time in not having to shop around for price and availability.
Benefits
Quality Parts and workmanship
Save Time and Money
Same Day Service
Use of long life Stainless Steel
Improved design and modification–where necessary
Pre-testing of all parts
After Sales service and Support
12 Month / 20,000 Km warranty.
We also manufacture pistons and components to replace worn parts and modify pistons to suit common rubber components, if the original parts are obsolete or unavailable. We stock a large range of rubber components for all makes and models of vehicles.